How Technology moved Center Stage for MHAT
It is a mildly warm June afternoon in Trichur. Clinician Remya is at her home. She has just completed a virtual psychotherapy session with a client based out of Delhi. The appointment was booked by the client online. The session was satisfying and Remya is about to start the post-session documentation. 
Remya glances at her watch - it is 2:55 pm and she recalls with a start - she is the host to the virtual training event on supervision to be facilitated by Radhikaji, about to start at 3 pm - the 16th virtual training event this month at MHAT. A surge of anxiety tides over her. But then suddenly, as saving grace comes the memory of a call she had earlier in the day with her Training Coordinator colleague Aiswarya. Aiswarya had offered to host today's virtual training event. Remya heaves a sigh of relief, stands up and stretches before taking back her seat next to her work table. She starts the documentation for the session just concluded. 
Elsewhere, in a flat at Kozhikode Aishwarya walks to the window adjacent to her work table and opens it- a gush of cold breeze rushes in. A drizzle has just started outside. The southwest monsoon has thankfully been a bit less harsh this year. She sits next to her laptop and adeptly locates the link to the virtual training event and clicks it. The screen pops up revealing 22 thumbnail videos of her colleagues who have already joined.

Aiswarya is about to say "Hi" to the team when her phone rings. It is her colleague Clinician Shukoor from Malappuram. "Hello Shukoor, how can I help?". 
Meanwhile, the rain outside has picked a deafening pace, hardly making it possible to hear anything.
"Hello" 
"Hello"
"Can you hear me?"
"Can you hear me?"
This goes on for a while. 
Finally, she barely manages to catch Shukoors message "I haven't received the meeting link yet". 
She reckons, she must've missed marking Shukoor on the email with the virtual meeting link. "Sorry, Shukoor!" She apologizes, "Shall send this to you right away!" she promises, before hanging up. The rain has slowed down.  
Meanwhile, Clinician Mubashir is at his home at Areakode. He has just completed the clinical review of his 10th and final client of the day from Ambalavayal - a village about 91 kilometres from his location. In most cases, the reviews were done over the phone. However, in the case of some clients, Mubashir wanted to see the client and therefore a virtual meeting was quickly set up. His colleague, Mental Health Worker Anju is on location at Ambalavyal, coordinating the reviews with clients. Presently Mubashir and Anju are on a phone discussing the post review followups for these ten clients. The alarm buzzes on both's mobiles. "Ah that must be the reminder to the 3 pm Supervision Skills Session," says Mubashir. 
"Yes" Agrees Anju. Both staffs conclude the discussion and prepare to join the virtual event from their respective locations. 
Back at her Calicut flat, Aiswarya has just sent the meeting link to Shukoor's WhatsApp number. She waits for an acknowledgement, but nothing happens... 
Suddenly the "new participant" chime sounds on the virtual meeting screen - a new thumbnail announces the arrival of Shukoor. "Thank you Aiswarya, for sending the link" a personal message appears on the meeting chat window. "You're welcome Shukoor" Aiswarya texts back.   
Aiswarya announces, "Good afternoon everyone. Its five minutes past 3 pm and I guess it is time we start the meeting. Is everyone in?". Another chime, confirms Mubashir's, Anju's and Remya's entry. 
"Absentees raise your hands", Dr.Gopika jokes. Someone laughs, there is an echo distorting all audio. A bunch of microphones unmute and hurried overlapping voices suggest that someone has possibly logged from two devices at the same time and hence the echo. One of the thumbnails disappears. The echo stops.  
"Great, we can start now, but where is Ismailji," someone asks. "Hello, I'm here! Sofia and I are joining from the same device", declares a voice. Sofia's thumbnail morphs into a video revealing the smiling faces of the pair. "We're closing the video to save bandwidth," says Ismail. And the video is replaced by a blank thumbnail. 
"Just one thing before we start", adds Muhsina, who manages The Mann Art Cafe, "Dr.Shameer will NOT be joining in today"
"Why?" asks Krisnnettan, the Admin Manager
"He is recording a video for a fundraising campaign" adds Muhsina. 
"Interesting! how are we doing a campaign during COVID?" Enquires Krishenttan
"The video appeal will go out on social media with a link to our website www.mhatkerala.org which has been enhanced to offer payment options on the click of a button" Muhsina clarifies.
"Thank you. That makes sense" replies Krishnettan. 
Soon, Aiswarya starts the session and invites Radhikaji to facilitate it. People raise their virtual hands, ask questions and the facilitator responds to the questions. Instructions are given, teams break out into groups of three, have group conversations and then get back to share their learnings. It is a productive session. 
This is an example of a typical day after the onset of COVID at MHAT. Witnessing the proceedings it is easy to assume that we're dealing here with an organization with highly adept IT professionals who have been using technology as an enabler for most work processes for years. However, the reality is, although IT has played a significant role in MHAT, this has erstwhile primarily been centred around the area of patient database management.
However, MHAT's adoption of technology for a range of activities including event scheduling, upskilling, staff meetings, client reviews, psychotherapy bookings, supervision, online payments, client engagements and even fundraising was picked up primarily following a commitment to bringing technology centre stage in order to surmount the challenges emerging from the constriction of in-person contact in running operations. Although this involved a steep learning curve, it resulted in the acceleration of the adoption of technology in MHAT with impressive results some of which are:
Between March and July, 563 sessions were scheduled on online Calendars - these included staff meetings, training, internships and induction programs 

7014 participants attended various sessions from their homes by maintaining COVID restrictions

7551 hours of Virtual Sessions - a total of 453,079 Minutes done online and most of these were training or supervision related
In addition to the above from April to Aug, an online appointment booking partnership was forged with saarathi.org through which a total of 931 appointments were booked and paid for by clients online saving them the trouble of calling or visiting the MHAT Center for Psychotherapy. Further, a good chunk of these appointments was done virtually, with clients connecting with MHAT therapists from the comfort of their homes.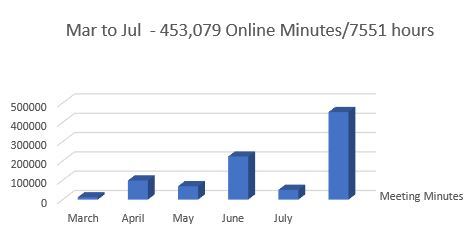 We believe these technology trends have a long-lasting impact on the ways we serve the vulnerable population well beyond COVID-19. Going forward we feel that continuing to build the necessary IT infrastructure and staying current w.r.to the latest technology trends will be key in our ability to offer thoughtful, person-centred, recovery-oriented, human-centred services in a  post-COVID-19 world. 
Comments
One

Comments